I listened to Sahar Hashemi at the 2019 Nordic Business Forum in Stockholm, where she shared how to be a startup forever in her speech on Intrapreneurship: be the start-up in a large corporation. She inspired us to continue think of using obstacles and stumbling blocks as vehicles for making the most of opportunities, produce customer delight and enable employees to do so within our corporations; remain startups forever.
These are notes taken during the speech with only very light editing, do expect some mistakes and grammatical errors.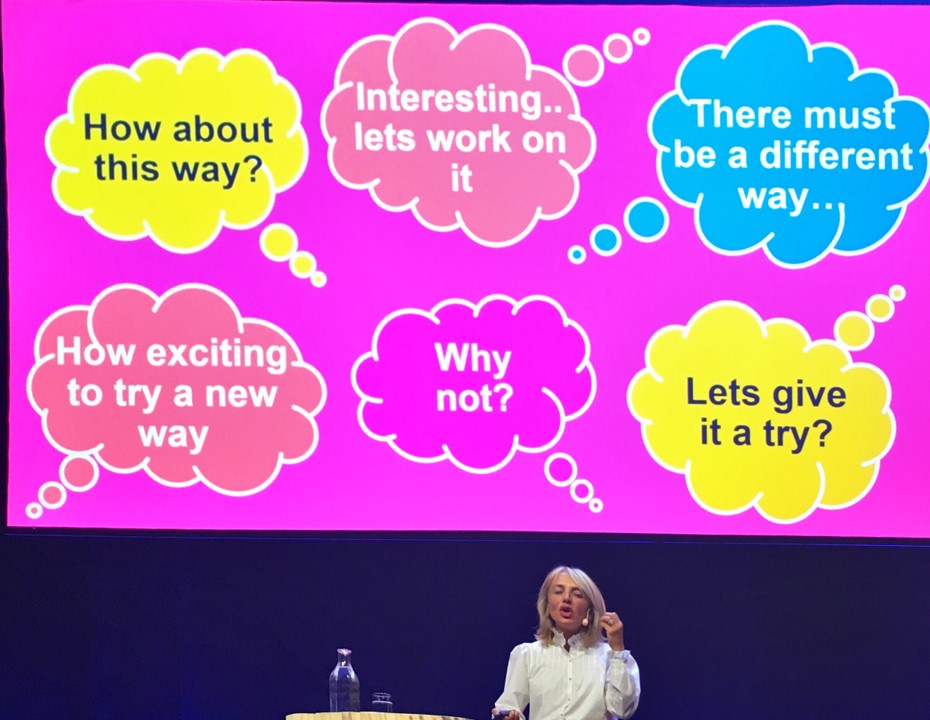 How much do you act as a startup in your enterprise? She fell in love with the idea of a great coffee experience - Starbucks - when she was over in the US. Why as a customer do I need to solve my own problems, the non-existent Starbucks in the UK? You need to identify the gap in the market, and exploit it. She feels it's a myth that the antenym om Entrepreneur should be Employee.
You need to work with investors/loan givers until you come through. Figure out things as you move along and bootstrap the business. Belief in the idea should guide you through the idea implementation. Once at 110 coffee shops, you are a big company and it felt like a time to hand it over.
In a big company, you get a lot of friction such as bureaucracy. It does not need to be that way. We all need to act as startups.
We need to be innovative every day, six steps
Zero distance with the customer
Become the customer, even just for a day. How does it work. What happens when you are the customer? How does it work to be he customer.
Look and understand the data. But most of all we need to be put in the customer shoes. Find the solution for the customer. Think and feel for the customer. Try to get as close as possible to be the customer. No us versus them, get to know them as your life partners. What is customer delight? Make it personal, in the smallest details.
"We don't seek to disrupt, we seek to delight…" - Amazon
Disruption is an effect.
Get out
Remove the excuses. Don't be busy, stay curious and learning. DO attack bureaucracy, some of it is a must, but try to remove it. Get out ofcomfort admin. Cross out the diary to interact with customers.
Use the Amazon two pizza rule. No larger meetings than how many can share two pizzas - about a max of eight people.
Be clueless
Allow all the stupid questions to be there.
Bootstrapping/extreme resourcefulness
Take pictures without permission to learn fast from how others do your business. Prototype fast. Understand the business quickly. We can't do it perfectly. Rather do it. Like Dyson's actual 5127 prototypes before the real thing. You need to persevere with limited resources.
Don't think no is a stop sign
You need to have the no's, and you need to work through them. Good ideas need to fail to get great, only very few ideas are good from the get-go. Take the fear away from persevering.
Don't put the work face on
Be 100% yourself. We need change, creativity and innovation. That means you need to be present and you. Work with each individual behavior, and model it towards the customer. Empathy. Curiosity. Be authentic.
Startup forever
We need to change the working culture and build a new business climate, a climate where we stay startups, even when we grow to become big corporations. A silver lining to the world we live in.
---
All my summaries from Nordic Business Forum Stockholm 2019:
Sahar Hashemi on how to remain a Startup Forever (this post)